Tim Tebow's Magical 2011 Denver Broncos Season - Pictures and Verse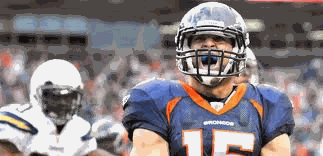 San Diego Chargers
Sun, 10/09 at 2:15 PM MDT
Loss: 29 - 24
Philippians 2:3
3 Do nothing out of selfish ambition or vain conceit. Rather, in humility value others above yourselves,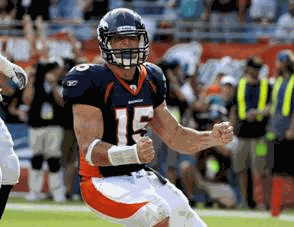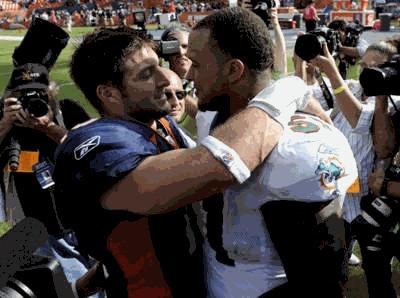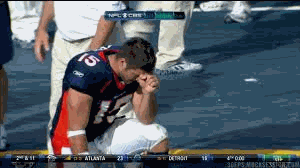 @ Miami Dolphins
Sun, 10/23 at 11:00 AM MDT
Win: 18 - 15
Romans 15:13
13 May the God of hope fill you with all joy and peace as you trust in him, so that you may overflow with hope by the power of the Holy Spirit.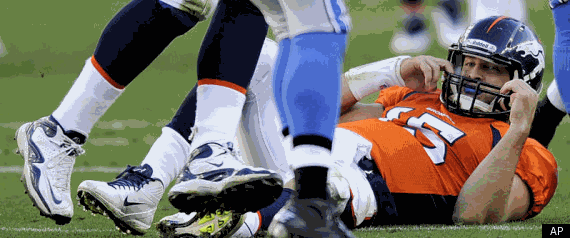 Detroit Lions

Sun, 10/30 at 2:05 PM MDT

Loss: 45 - 10

1 Samuel 12:24

24 But be sure to fear the LORD and serve him faithfully with all your heart; consider what great things he has done for you

.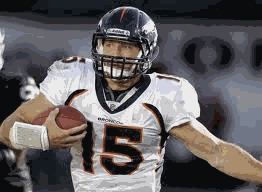 @ Oakland Raiders
Sun, 11/06 at 2:05 PM MST
Win: 38 - 24
Philippians 4:6-7
6 Do not be anxious about anything, but in every situation, by prayer and petition, with thanksgiving, present your requests to God. 7And the peace of God, which transcends all understanding, will guard your hearts and your minds in Christ Jesus.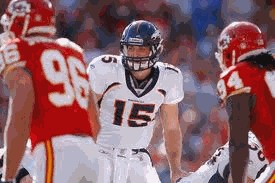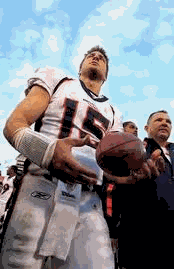 @ Kansas City Chiefs
Sun, 11/13 at 11:00 AM MST
Win: 17 - 10
Micah 6:8
8 He has shown you, O mortal, what is good.
And what does the LORD require of you?
To act justly and to love mercy
and to walk humbly[
a
] with your God.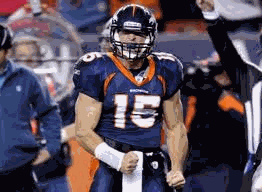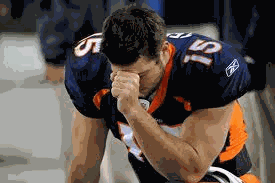 New York Jets
Thu, 11/17 at 6:20 PM MST
Win: 17 - 13
Psalm 100
A psalm. For giving grateful praise.
1 Shout for joy to the LORD, all the earth.
2 Worship the LORD with gladness;
come before him with joyful songs.
3 Know that the LORD is God.
It is he who made us, and we are his[a];
we are his people, the sheep of his pasture.
4 Enter his gates with thanksgiving
and his courts with praise;
give thanks to him and praise his name.
5 For the LORD is good and his love endures forever;
his faithfulness continues through all generations.
Colossians 3:15
Let the peace of Christ rule
In your hearts, since as
members of one body you were
called to Peace.
And be thankful.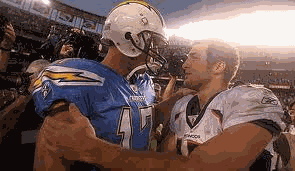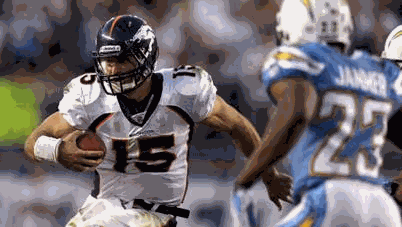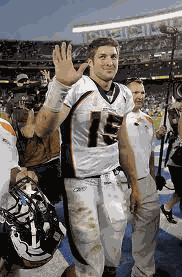 @ San Diego Chargers
Sun, 11/27 at 2:15 PM MST
Win: 16 - 13
Psalm 107:1
BOOK V
Psalms 107–150
1 Give thanks to the LORD, for he is good;
his love endures forever.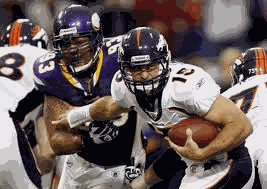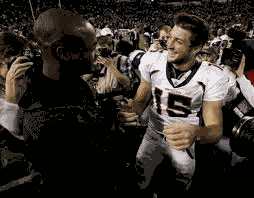 @ Minnesota Vikings
Sun, 12/04 at 11:00 AM MST
Win: 35 - 32
Psalm 25:1-10
Psalm 25[
a
]
Of David.
1 In you, LORD my God,
I put my trust.
2 I trust in you;
do not let me be put to shame,
nor let my enemies triumph over me.
3 No one who hopes in you
will ever be put to shame,
but shame will come on those
who are treacherous without cause.
4 Show me your ways, LORD,
teach me your paths.
5 Guide me in your truth and teach me,
for you are God my Savior,
and my hope is in you all day long.
6 Remember, LORD, your great mercy and love,
for they are from of old.
7 Do not remember the sins of my youth
and my rebellious ways;
according to your love remember me,
for you, LORD, are good.
8 Good and upright is the LORD;
therefore he instructs sinners in his ways.
9 He guides the humble in what is right
and teaches them his way.
10 All the ways of the LORD are loving and faithful
toward those who keep the demands of his covenant.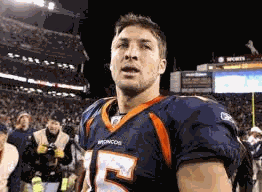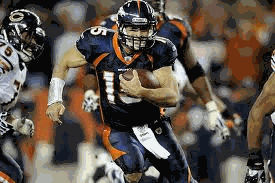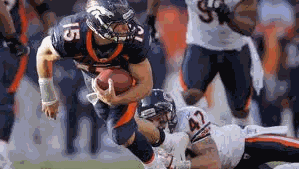 Chicago Bears
Sun, 12/11 at 2:05 PM MST
Win: 13 - 10
Isaiah 9:6

6 For to us a child is born,
to us a son is given,
and the government will be on his shoulders.
And he will be called
Wonderful Counselor, Mighty God,
Everlasting Father, Prince of Peace.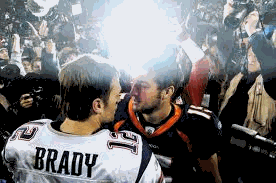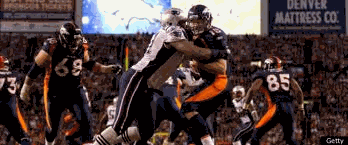 New England Patriots
Sun, 12/18 at 2:15 PM MST
Loss: 41 -23
Matthew 1:21-23
21 She will give birth to a son, and you are to give him the name Jesus,[a] because he will save his people from their sins."
22 All this took place to fulfill what the Lord had said through the prophet: 23 "The virgin will conceive and give birth to a son, and they will call him Immanuel"[b] (which means "God with us").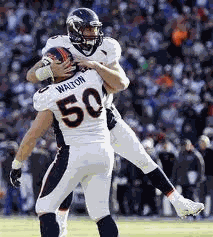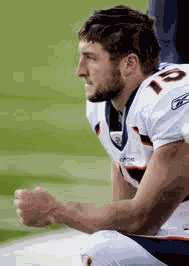 @ Buffalo Bills
Sat, 12/24 at 11:00 AM MST
Loss: 40 - 14
Luke 2:7-20
7 And she brought forth her firstborn Son, and wrapped Him in swaddling cloths, and laid Him in a manger, because there was no room for them in the inn.
Glory in the Highest

8 Now there were in the same country shepherds living out in the fields, keeping watch over their flock by night. 9 And behold,[a] an angel of the Lord stood before them, and the glory of the Lord shone around them, and they were greatly afraid. 10 Then the angel said to them, "Do not be afraid, for behold, I bring you good tidings of great joy which will be to all people. 11 For there is born to you this day in the city of David a Savior, who is Christ the Lord. 12 And this will be the sign to you: You will find a Babe wrapped in swaddling cloths, lying in a manger."
13 And suddenly there was with the angel a multitude of the heavenly host praising God and saying:
14 " Glory to God in the highest,
And on earth peace, goodwill toward men!"[b]

15 So it was, when the angels had gone away from them into heaven, that the shepherds said to one another, "Let us now go to Bethlehem and see this thing that has come to pass, which the Lord has made known to us." 16 And they came with haste and found Mary and Joseph, and the Babe lying in a manger. 17 Now when they had seen Him, they made widely[c] known the saying which was told them concerning this Child. 18 And all those who heard it marveled at those things which were told them by the shepherds. 19 But Mary kept all these things and pondered them in her heart. 20 Then the shepherds returned, glorifying and praising God for all the things that they had heard and seen, as it was told them.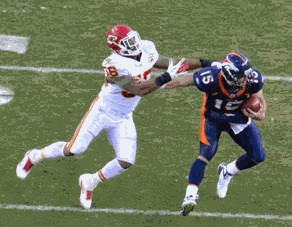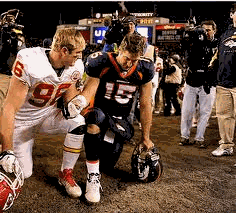 Kansas City Chiefs
Sun, 01/01 at 2:15 PM MST
Loss: 7 - 3
Jeremiah 9:24
24 but let the one who boasts boast about this:
that they have the understanding to know me,
that I am the LORD, who exercises kindness,
justice and righteousness on earth,
for in these I delight,"
declares the LORD.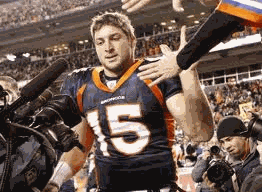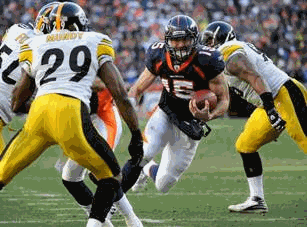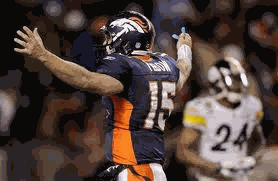 Pittsburgh Steelers
Sun, 01/08 at 2:30 PM MST
Win: 29 - 23
Hebrews 12:1-2
1 Therefore, since we are surrounded by such a great cloud of witnesses, let us throw off everything that hinders and the sin that so easily entangles. And let us run with perseverance the race marked out for us, 2 fixing our eyes on Jesus, the pioneer and perfecter of faith. For the joy set before him he endured the cross, scorning its shame, and sat down at the right hand of the throne of God.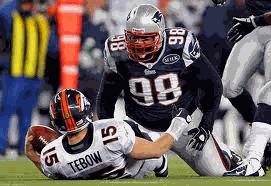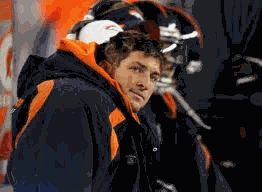 @ New England Patriots
Sat, 01/14 at 6:00 PM MST
Loss: 45 - 10
Romans 8:37-39
37 No, in all these things we are more than conquerors through him who loved us. 38 For I am convinced that neither death nor life, neither angels nor demons,[a] neither the present nor the future, nor any powers, 39 neither height nor depth, nor anything else in all creation, will be able to separate us from the love of God that is in Christ Jesus our Lord.