The Bogarde Mystique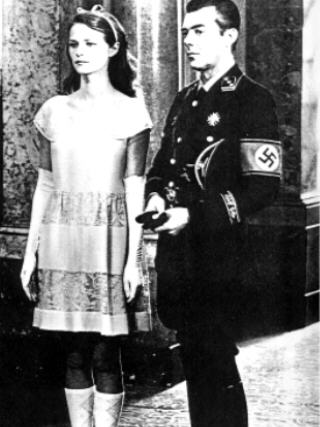 Decadent, handsome, brooding, alluring, seductive, charming, vunerable, explosive, intelligent, beautiful, subtle, distinctive...


What is the Bogarde Mystique? From my own point of view as a fan, Dirk Bogarde represents the essential qualities of the Classic Film Star. He is consummately eloquent in speech and impeccably elegant in manner. And yet underneath this refinement and grace lies a whirlpool of emotion and danger that simmers just beneath the surface, sometimes visible only through a flash of those large, emotional eyes. But the power, the latent explosiveness, is always there. He remains one of the most mysterious, exciting, dynamic and unusual actors to have ever graced the Silver Screen.
---
A BRIEF ANALYSIS OF BOGARDE'S CHARACTERS

Dirk's movie personalities seem to tend towards two very different types of characters which I have listed below. Dirk has played many characters outside of these two categories, but these seem to emphasize his most well-known roles. I think what makes Dirk the most enticing of actors is his ability to weave both vunerable and sadistic characteristics into the character he is playing on screen (the most obvious would be perhaps Max from The Night Porter). The last thing in the world Bogarde would be is a one-dimensional actor. But the general categories below are the overriding quality that the character posseses, but as any fan of Dirk knows, he is able to layer his characters with many mysterious facets and levels of emotion. They are also some of my all-time favorite Bogarde parts. And as Dirk once wrote, "the camera actually photographs thought." Dirk is among the most skilled actors at this, and whether the thought is clear or mysterious, Bogarde is always thinking on screen, and with such a radiant intelligence. And besides all this, Bogarde, to me, is above all the most handsome, elegant, seductive and charming man to have ever graced the screen. He is like no one else, and his mere screen presence sparkles with a touch of arrogance, danger, susceptibility, and prevading physical beauty that makes him mezmerizing to watch.




Spiritual/Sacrificial/Tragic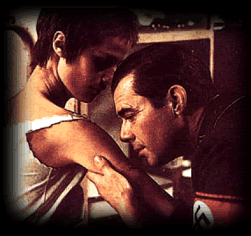 Many of Dirk's characters display incorpreal and platonic characteristics that effect the viewer by invoking feelings of tragedy, empathy and deep emotion.

Jose/The Spanish Gardner
Sydney Carton/A Tale of Two Cities
Melville Farr/Victim
Sir Mark Loddon/ Libel
Captain Hargreaves/King and Country
Robert/ Darling
Arturo/ The Angel Wore Red
Max/The Night Porter

Aggressive/Sexual/Violent





In contrast, further roles played by Dirk involve characters that display sullen cruelty, quiet sadism, and brooding resentment. Nonetheless, the audience is still seduced by them, perhaps because of their perverse complexity.

Tom Riley/ The Blue Lamp
Frank Clements/The Sleeping Tiger
Edward Beare/Cast a Dark Shadow
Frank Welney/Libel
Anacleto/The Singer not the Song
Barrett/The Servant
Lt Scott-Padget/Damn the Defiant!
Stephen/The Accident
Max/The Night Porter



Dirk Trivia Questions
---
1)What pop band used Dirk's name in the title of one of their albums? What was the name of the album and the year of it's release? Adam and the Ants. 1979--album title "Dirk Wears White Sox"

2)What major historical figure was Dirk slated to play before the scheduled epic was canceled for financial reasons? (hint: another famous director would make the picture a few years later) Lawrence of Arabia. Movie was to be directed by Anthony Asquith.

3)Which nine actresses have appeared with Dirk in more than 1 film? Mylene Demongeot, Ava Gardner, Charlotte Rampling, Muriel Pavlov, Shirley Eaton, Barbara Murray, Wendy Craig, Elizabeth Sellars, Kay Walsh.


Back to Home Page / Bogarde's Films in Review / Biography / Thoughts... / Picture Gallery